Date : September 9, 2016
Present and Future of Japan-Russia Relations (Mr. Shinji Hyodo, Regional Studies Dept. Director of NIDS (National Institute for Defense Studies))
post date : 2016.08.07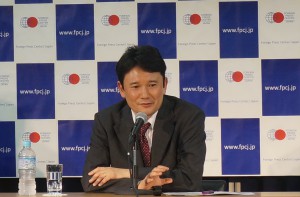 October this year will mark 60 years since the Soviet–Japanese Joint Declaration of 1956. At the beginning of May this year, Prime Minister Abe went to Russia to meet with President Putin, and currently plans to do so again in early September. The first official visit to Japan by a Russian president in 11 years is also being considered within the year, leading to increased interest on the Northern Territories issue and peace treaty negotiations, as well as the possibility of strengthened economic relations.
 The FPCJ has invited Mr. Shinji Hyodo, Director of the Regional Studies Department at The National Institute for Defense Studies, to speak about the present and future of Japan-Russia relations.
Date: September 9 (Fri), 2016, 14:00-15:30
Place: Foreign Press Center Japan (6th floor, Nippon Press Center Bldg)
Language: Japanese (with consecutive English interpretation)
*Embassy representatives and FPCJ supporting members may also attend the briefing as observers  (admission free).
*No car park is available. Please use a nearby car park if you come by car.