Date : September 20, 2016
Present and Future of Japan-China Relations (Prof. Akio Takahara, Faculty of Law/ Vice-dean of Graduate School of Public Policy, The University of Tokyo)
post date : 2016.09.13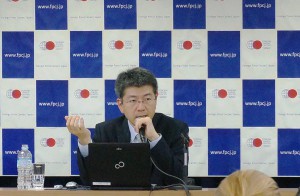 While high-level talks aiming to improve Japan-China relations have been continuing since last year, how those relations may change remains uncertain. The G7 Ise-Shima Leaders' Declaration indicated concern over the situation in the East and South China Seas, and the two countries have conflicting opinions over the Permanent Court of Arbitration's ruling on the South China Sea.
The FPCJ has invited Dr. Akio Takahara, Professor of the Faculty of Law/ Vice-dean of the Graduate School of Public Policy, The University of Tokyo, to speak about the present and future of Japan-China relations. He gave a briefing on the same topic in September 2015.   
Date:  September 20 (Tue), 2016, 14:30-16:00        
Place: Foreign Press Center Japan (6th floor, Nippon Press Center Bldg)
Language: Japanese (with consecutive English interpretation)
 *Embassy representatives and FPCJ supporting members may also attend the briefing as observers (admission free).
 *No car park is available. Please use a nearby car park if you come by car.