Date : January 22, 2016
Domestic Japanese Politics in 2016 by Mr. Hiroshi Hoshi, Columnist and Senior Political Writer, Asahi Shimbun
post date : 2015.12.15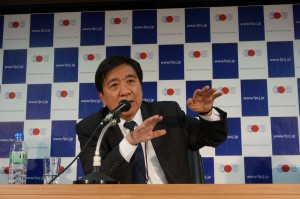 In addition to a possible restructuring of the opposition parties, key topics for domestic Japanese politics in 2016 will include the challenges facing the Abe government in its fourth year, the outlook for the summer House of Councillors election, and the effect of the lowered voting age.
The FPCJ has invited Mr. Hiroshi Hoshi, columnist and senior political writer at the Asahi Shimbun, to speak about domestic Japanese politics in 2016.
Date: January 22 (Fri), 2015, 14:00-15:30
Place: Foreign Press Center of Japan (6th floor, Nippon Press Center Bldg)
Language: Japanese (with consecutive English interpretation)
*Embassy representatives and FPCJ supporting members may also attend the briefing as observers (admission free).
*No car park is available. Please use a nearby car park if you come by car.