Date : September 15, 2015
Notice (Press Briefing): Present and Future of Japan-China Relations
post date : 2015.09.02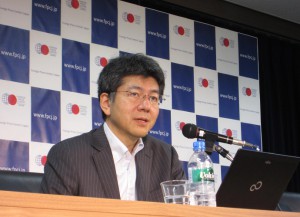 FPCJ Press Briefing: Present and Future of Japan-China Relations

Dr. Akio Takahara, Professor, Graduate Schools for Law and Politics, The University of Tokyo
Although it has been decided that Prime Minister Abe will not visit China this month, Japan-China relations are still drawing significant attention as it is estimated that a summit meeting between Prime Minister Abe and Chinese President Xi Jiping will be held on the occasion of several international conferences before the end of 2015, which marks the 70th year since the end of WWII. The FPCJ has invited Dr. Akio Takahara, a professor at the University of Tokyo Faculty of Law and Graduate Schools for Law and Politics, to speak about the future outlook of Japan-China relations. Dr. Takahara served as secretary general of the New Japan-China Friendship Committee for the 21st Century until December 2014. We look forward to your attendance.
Date: September 15 (Tue), 2015, 14:00-15:30
Place: Foreign Press Center of Japan (6th floor, Nippon Press Center Bldg)
Language: Japanese (with consecutive English interpretation)
*Embassy representatives and FPCJ supporting members may also attend the briefing as observers (admission free).
*No car park is available. Please use a nearby car park if you come by car.