Date : July 17, 2013
Notice (Press Briefing): Prospect of Abe Administration after Upper House Election (July 17, 2013)
post date : 2013.08.21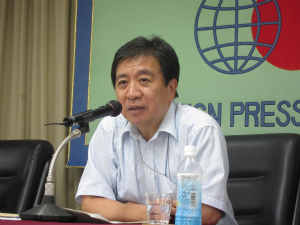 Prospect of Abe Administration after Upper House Election
Mr. Hiroshi Hoshi, Columnist and Senior Political Writer, Asahi Shimbun
In the run-up to the House of Councillors' election to be held on July 21, political parties have been conducting election campaigns, mainly focusing on such issues as "Abenomics," a constitutional revision and nuclear policies. If the LDP and New Komeito win 63 or more seats, this will change the divided Diet situation and allow Mr. Abe to manage a stable administration. While some predict that the ruling parties may win, people's attention is also focused on the direction of the Abe administration as well as on the election results.
FPCJ has invited Mr. Hiroshi Hoshi, Columnist and Senior Political Writer, Asahi Shimbun, to talk about the "Prospect of the Abe administration after the Upper House Election." 
Date & Time: July 17 (Wed), 2013, 15:00-16:30 
Place: Foreign Press Center/Japan (6th floor, Nippon Press Center Bldg.)
Language: Japanese (with consecutive English interpretation)
Embassy representatives and FPCJ supporting members may also attend the briefing as observers (admission free).
*No car park is available. Please use a nearby car park if you come by car.