Date : April 19, 2013
Notice: Simultaneous Interpretation Service for the Press Conference of Prime Minister Shinzo Abe (April 19, 2013)
post date : 2013.08.20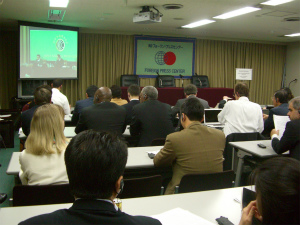 Simultaneous Interpretation Service for the Press Confrence of Prime Minister Shinzo Abe
On Friday, April 19, Prime Minister Shinzo Abe will give a press conference at the Nihon Kisha Club (Nippon Press Center Building). The subject will be "Growth Strategy," one of the "three arrows" of Abenomics.
The Foreign Press Center/ Japan will simulcast the press conference and provide simultaneous English interpretation in its conference room.
Date & Time: April 19 (Fri), 2013, 15:30 - 16:30
Place: Foreign Press Center/Japan (6th floor, Nippon Press Center Bldg.)
Embassy representatives and FPCJ supporting members may also attend the briefing as observers (admission free).
*No car park is available. Please use a nearby car park if you come by car.