Date : May 25, 2015
Notice (Press Briefing): The Future of Order in the Asia Pacific Region, and Japan's Role (May 25, 2015)
post date : 2015.05.18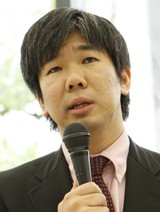 Press Briefing:  The Future of Order in the Asia Pacific Region, and Japan's Role
 Briefer:  Dr. Yuichi Hosoya, Professor, Keio University Faculty of Law
On April 24, the Ministry of Foreign Affairs' study group on "Order in the Asia-Pacific Region in 20 Years and the Role of Japan" released a report. The study group consists of seven young researchers, and the report covered six topics including "China and Taiwan," "The ROK and DPRK," "Japan-US Relations," "The Asia-Pacific Region," "The Security Environment in East Asia," and "Globalization and Japan." The report considered future situations, including those that would be desirable for Japan and those that would be undesirable, and examined what mid- to long-term strategy Japan should take.
The FPCJ has invited Dr. Yuichi Hosoya, a professor at the Keio University Faculty of Law who was the head of the study group, to discuss the report.  Don't miss this chance!
Date: May 25 (Mon), 2015, 16:00-17:30
Place: Foreign Press Center of Japan (6th floor, Nippon Press Center Bldg)
Language: Japanese (with consecutive English interpretation)
Embassy representatives and FPCJ supporting members may also attend the briefing as observers (admission free).
*No car park is available. Please use a nearby car park if you come by car.