Date : December 17, 2014
Notice (Press Briefing): Lower House Election Results and Outlook for Japanese Politics (December 17, 2014)
post date : 2014.12.04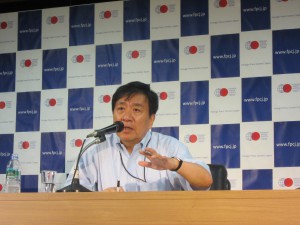 Press Briefing "Lower House Election Results and Outlook for Japanese Politics"
Briefer: Mr. Hiroshi Hoshi, Columnist and Senior Political Writer, Asahi Shimbun
The 47th Lower House election will take place on December 14. Partly because Prime Minister Abe explained he dissolved the Lower House to confirm public support for his economic policy, Abenomics, the ruling parties are bringing promotion of Abenomics to the fore.  On the other hand, the opposition parties are trying to discuss other issues such as energy policy, including the resumption of nuclear power plants, and security policy, including the approval of the use of the right to collective self-defense.  
Following this election which is drawing much attention, the FPCJ has invited Mr. Hiroshi Hoshi, columnist and senior political writer at the Asahi Shimbun, to speak about his analysis of the election results and the mid- and long-term outlook for Japanese politics.
Don't miss this chance! 
Date: December 17 (Wed), 2014, 14:30-16:00
Place: Foreign Press Center/Japan (6th floor, Nippon Press Center Bldg)
Language: Japanese (with consecutive English interpretation)
Embassy representatives and FPCJ supporting members may also attend the briefing as observers (admission free).
*No car park is available. Please use a nearby car park if you come by car.