Date : September 8, 2014
Notice (Press Briefing): Cabinet Reshuffle and the Upcoming Extraordinary Diet Session (September 8, 2014)
post date : 2014.08.15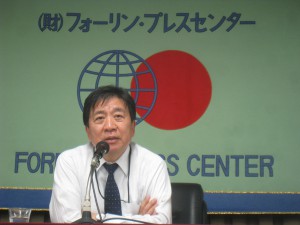 Cabinet Reshuffle and the Upcoming Extraordinary Diet Session
Briefer: Mr. Hiroshi Hoshi, Columnist and Senior Political Writer, Asahi Shimbun
Prime Minister Abe will reshuffle his Cabinet in the first week of September. Including the creation of two new posts for ministers in charge of security legislation and regional development, the reshuffle is expected to be massive. It is currently receiving a lot of attention together with the appointment of LDP executives which will take place at the same time.  
What lineup will Mr. Abe choose before the extraordinary Diet session, and what will Japanese politics look like in the near future?
The FPCJ has invited Mr. Hiroshi Hoshi, columnist and senior political writer at the Asahi Shimbun, to share his views on these issues. 
We look forward to your attendance.
Date: September 8 (Mon), 2014, 14:00-15:30
Place: Foreign Press Center/Japan (6th floor, Nippon Press Center Bldg)
Language: Japanese (with consecutive English interpretation)
Embassy representatives and FPCJ supporting members may also attend the briefing as observers (admission free).
*No car park is available. Please use a nearby car park if you come by car.