Date : August 5, 2014
Notice (Press Briefing): Empowering Women as a Management Goal of Japanese Companies (August 5, 2014)
post date : 2014.07.22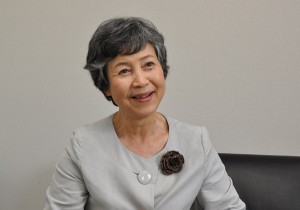 Empowering Women as a Management Goal of Japanese Companies
Briefer: Ms. Kimie Iwata, President of Japan Institute of Women's Empowerment & Diversity Management

The Abe government has made "creating a society where women can shine" one of the pillars of its new growth strategy. With women being the greatest potential power for growth to revitalize Japan, all eyes are on how action will be taken.
The FPCJ has invited Ms. Kimie Iwata, who has worked in top positions in the government and in the private sector, to speak about encouraging participation of women in the workforce as a management goal for Japanese companies.
Ms. Iwata was head of the Equal Employment, Children and Families Bureau at the Ministry of Health, Labor and Welfare before becoming the first female Executive Vice President of Shiseido in 2008. Currently, she is active as a consultant for Shiseido, outside company auditor for Kirin Holdings, outside director for JAL and a member of the Cabinet Council for Gender Equality.
Don't miss this chance!
Date: August 5 (Tues), 2014, 13:30-15:00
Place: Foreign Press Center/Japan (6th floor, Nippon Press Center Bldg)
Language: Japanese (with consecutive English interpretation)
Embassy representatives and FPCJ supporting members may also attend the briefing as observers (admission free).
*No car park is available. Please use a nearby car park if you come by car.