Date : September 19, 2012
Notice (Press Briefing): Autumn Politics: Snap General Election just around the corner (September 19, 2012)
post date : 2013.08.20
Press Briefing: Autumn Politics: Snap General Election just around the corner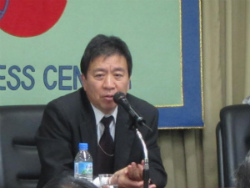 Mr. Hiroshi Hoshi, Op-ed editor, Asahi Shimbun
Prime Minister Noda and LDP President Tanigaki agreed to "dissolve the House of Representatives in the near future." The regular Diet session was closed on September 8, and a DPJ leadership election and a LDP presidential election will be held on September 21 and 26, respectively. While Mr. Noda, and three others, including former Minister of Agriculture, Forestry and Fisheries Akamatsu, run for the DPJ election, it is reported that former LDP Policy Research Council chairman Ishiba, former president Abe and several others want to run for the LDP election. On top of that, we cannot take our eyes off the moves of the Osaka Ishin no Kai (Osaka Restoration Association) led by Osaka Mayor Hashimoto. The association, which plans to put up about 400 proportional representation candidates for the snap election, is, according to opinion polls carried out by Japan's major news media, gaining bigger support than the conventional parties.
FPCJ will invite Mr. Hiroshi Hoshi, Op-ed editor of the Asahi Shimbun, to share his views on the straining Japanese politics with the snap general election coming soon. Register now! 
Date & Time: September 19 (Wed), 2012, 15:00-16:30
Place: Foreign Press Center/Japan (6th floor, Nippon Press Center Bldg.)
Language: Japanese (with English interpretation)
Embassy representatives and FPCJ supporting members may also attend the briefing as observers (admission free).
【Briefer's Profile】
Born in 1955 in Fukushima prefecture, Mr. Hiroshi Hoshi graduated from the College of Arts and Sciences of the University of Tokyo. He then joined the Asahi Shimbun in 1979. He was assigned to the branch offices in Nagano and Chiba prefectures before moving to the political section in 1985. He was next assigned to cover Kantei (prime minister's office), Liberal Democratic Party, Ministry of Foreign Affairs, and others. Mr. Hoshi was in Washington, D.C. as a correspondent and then worked at the political desk before he became a senior political writer in 2000. He appears as a commentator in the TV program "Sunday Project" (Asahi Broadcasting Corporation) from April 2002 and has also taught in the graduate school of the University of Tokyo as a project professor for two years from April 2004. His publications include "Jiminto to Sengo" (Liberal Democratic Party and Post-War Years) from Kodansha Gendai Shinsho, "Terebi Seiji" (TV Politics) from Asahi Sensho, and "Abe Seiken no Nihon" (Japan under Abe Administration) from Asahi Shinsho.
*No car park is available. Please use a nearby car park if you come by car.