Date : May 26, 2017
Report: Future of Delivery Industry Reforms ( Mr. Ryoichi Kakui, Chief Executive Officer, e-LogiT Co., Ltd.)
post date : 2017.05.29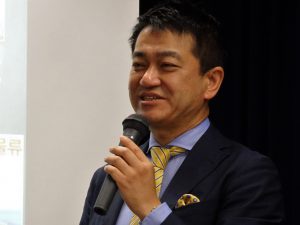 With an increasingly severe labor shortage throughout Japan, dealing with the growing number of deliveries is a critical issue facing the parcel delivery industry. Yamato Transport, one of the major players in the industry, has raised delivery fees and limited the hours when re-delivery can be requested. Combined with the recent movement towards work style reform, the challenges of the industry have been drawing attention.
The FPCJ invited Mr. Ryoichi Kakui, CEO of logistics consulting company e-LogiT and author of multiple books on logistics, to speak about the true nature of the problems and pioneering examples of initiatives to solve these problems.
The briefing had a total of 20 participants, including 8 journalists from China, France, Korea, Singapore, Spain, and U.S.A.

- Date: May 26 (Fri), 2017, 10:30- 12:00
- Briefer: Mr. Ryoichi Kakui (Chief Executive Officer, e-LogiT Co., Ltd.)
- Language: Japanese with  English interpretation