FPCJ invites financial assistance from those who approve our mission and activities. Your contribution toward our activities will be greatly appreciated.
Support Us!
Here are some projects we need you support for. Please study them.
Unit of contribution: 1,000 yen or over
Your contribution will be used for our fellowship programs, press tours and other projects within the fiscal year of your contribution. Your cooperation will be greatly appreciated.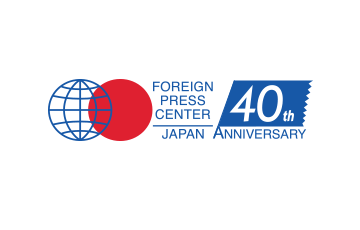 Contribution to Fellowship Programs for Journalists from Developing Countries

We invite groups of young journalists from developing countries/areas which have so far sent only a few journalists to Japan. During their stay in Japan, these promising journalists have lectures on Japan's current topics such as politics, economy and society; visit a newspaper company, a university and a local community; and stay with Japanese families. They also gather news in accordance with their own fields of interest. This program is intended to increase the number of journalists who have a good understanding of Japan.
Contribution to Press Tours to Areas Devastated by the Great East Japan Earthquake

In the areas severely damaged by the Great East Japan Earthquake, efforts have been made for the reconstruction of infrastructure and for restoration of local communities. Nevertheless, people's interest, domestic or foreign, in the disaster-hit areas has been waning as time goes by. FPCJ carries out press tours to disaster-afflicted areas to prevent people from forgetting about the disaster. We will use your contribution for our press tour to be carried out in February every year.
Contribution to a Program Inviting Journalists from Disaster-hit Countries

Recognizing that it is Japan's responsibility to share, with the international community, the lessons and knowledge obtained from such disasters as the Great East Japan Earthquake, typhoons and volcanic eruptions, FPCJ invites journalists from disaster-hit countries. You contribution will be used for their participation in the program.
Contribution to Conferences for Sending Information Out of Japan

Recent news from Japan that is picked out by the foreign media has been going down both in quality and quantity, it has been pointed out. FPCJ holds, two or three times a year, conferences to analyze and study foreign news organizations, their news on Japan, their ideal future, and possible cooperation between FPCJ and them. Your contribution will be used to hold these conferences.
Bank Account for Donation
Name of Bank: Sumitomo Mitsui Banking Corporation
Name of Branch: Tokyo Komubu
Account No.: 00004137 (Ordinary Account)
SWIFT Code: SMBC JP JT
Branch Number: 096
Address of Bank: 1-6-12 Toranomon, Minato-ku, Tokyo JAPAN
Payee Name: Foreign Press Center
Payee Address: 6F Nippon Press Center Building, 2-2-1 Uchisaiwaicho, Chiyoda-ku, Tokyo JAPAN

*Commission fees
Transaction fee as well as currency conversion fee may be charged.
*Tax exemption
We are not in a position to confirm the details of tax exemptions in your country as each country will have a different tax regimes.
*Receipts
We can issue receipts if required.

For more information please contact Strategic Communication Division of FPCJ: sc[at]fpcj.or.jp
*Please replace "at" with "@" when you send the Email.
About FPCJ Supporting Membership
If you are interested in assisting FPCJ to send information from Japan via the foreign media, please become an FPCJ Supporting Member. This works both ways. Supporting Members can enjoy various services of FPCJ, attend its events, use its facilities, and enjoy other privileges.
Privileges of Supporting Members
- Members can attend FPCJ's social gatherings with the foreign media.
- Members can attend, as observers, press conferences and press briefings held by FPCJ.
- Members have a space in our office to distribute their documents, press releases, etc.
- Members can use, at a discount rate, FPCJ's press release distribution system for the foreign press or the foreign embassies in Tokyo.
- Members can rent our conference rooms, large and small, at a discount rate.
- Members can attend FPCJ-sponsored symposiums or seminars.
- Members can transmit information via the FPCJ website.
- Members' workers or officials can be accepted as trainees.
How to Apply
The membership application is on an as-needed basis. If you wish to be a member, download the application form, fill in the document and send it to FPCJ by either e-mail, fax, or post. After receiving your application form, we will send the bill for the fee. Please remit the necessary amount to our bank account by the specified time.

Application form
Annual Membership Fee
200,000 yen per unit
Application and Inquiry

Foreign Press Center Japan
6F Nippon Press Center Building, 2-2-1, Uchisaiwaicho, Chiyoda-ku
Tokyo, 100-0011, Japan
Tel: 03-3501-5251(Strategic Communications Division)
Fax: 03-3501-3622
e-mail: sc[at]fpcjpn.or.jp
*Please replace "at" with "@" when you send the Email.
Members
FPCJ is supported by companies, organizations, local governments, universities, and others who agree with our mission.