Date : September 15, 2009
Report: October 15, 2009 【Yamanashi Clean Energy Press Tour】
post date : 2013.08.23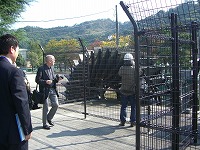 Ahead of the UN Climate Change Conference (COP15) in December 2009, triggered by Prime Minister Hatoyama's pledge to "cut greenhouse gas emissions by 25%," the world is paying attention to Japan's anti-global-warming efforts. FPCJ organized a press tour focusing on various efforts in Yamanashi Prefecture to make use of clean energy. Seven journalists from China, France, Germany, Pakistan, and Singapore took part.
The journalists first had a briefing from the Environmental Planning Division of the prefecture on the grand design of Yamanashi Prefecture's policies to tackle global warming. Yamanashi prefecture, aiming to be a leader in the field of clean energy, drew up "The Yamanashi Green New Deal Plan" in June 2009 and started various projects to contribute to the prevention of global warming.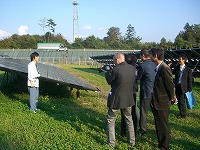 The journalists next covered the civil micro hydro system "Genki-Kun #1" in Tsuru City in Eastern Yamanashi. Tsuru is traditionally known as a "water town" and the city has been vigorously working to promote micro hydro. "Genki-Kun #1," built in front of the city hall, now supplies 14 % of the electricity consumed in the building.
The tour then covered a micro hydro system named "STREAM," developed by Seabell International Co., Ltd, a venture company in Tokyo. The system can be installed in any waterway and generates electricity day and night unaffected by the weather. The system is expected to be introduced not only in Japan but also in areas without electricity supply in developing countries.
After stopping at a lumber complex where Yamanashi Prefecture is working on forest management as part of anti-global-warming measures, the reporters moved to Sensenryo, a lodging and training facility in Kiyosato, to cover two wood biomass boilers installed in the facility this spring. The boilers are fueled by wood pellets made from wood chips produced in processing Yamanashi lumber. This is a good example of the utilization of locally produced energy in Yamanashi Prefecture, with 78% of its land area covered by forests.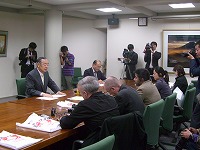 The tour participants next visited a Mega-Solar Power Station currently under construction in Hokuto City, receiving more average annual hours of sunshine than any other municipality in Japan. The first stage of construction is already finished. In the site along the Chuo Expressway now spread about 4,200 solar panels with a total capacity of 600 kW. In 2010, when the second stage construction is completed, the total capacity will be increased up to 2 MW.
At the end of the tour, the journalists interviewed Shomei Yokouchi, Governor of the prefecture. The governor told the reporters about Yamanashi's policies to contribute to the prevention of global warming including its long-term target to achieve "CO2-free Yamanashi" by balancing the amount of CO2 emissions and forest-absorption by around 2050.