Date : January 12, 2021
Minister for Administrative Reform and Regulatory Reform Taro Kono—How Japan Will Change with Administrative and Regulatory Reform
post date : 2020.12.24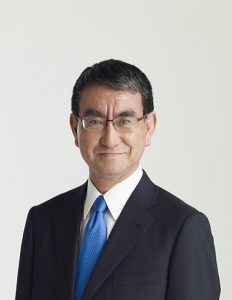 Regulatory reform is a key policy of the Suga administration which formed in September 2020, with Minister for Administrative Reform and Regulatory Reform Taro Kono taking the lead. Eliminating the use of personal seals in administrative paperwork, a project which he worked on immediately after assuming this position, is expected to lead to seals being eliminated in over 99% of the approximately 15,000 applicable cases. With the response to the COVID-19 pandemic exposed how Japan is lagging behind in digital government, he also introduced a plan to make all administrative procedures for government agencies available online within five years.
As he implements regulatory reform without being bound by established interests, the FPCJ has invited Mr. Kono to discuss how Japan will change with administrative and regulatory reform, and what kind of new Japan will be presented to the international community, at the beginning of the new year.                    
■Please note that you cannot physically attend this briefing, as it will be a Zoom webinar. 
■Date: Jan. 12 (Tue), 2021, 14:00-15:00 (Deadline for application: Noon, Jan. 8)
■Briefer: Mr. Taro Kono, Minister for Administrative Reform and Regulatory Reform
■Language: Japanese, with consecutive English interpretation                                  
As in our standard press briefings, there will be a Q&A session at the end.
*In principle, questions will only be accepted from members of the foreign press.
■Members of the Foreign Press:
Please send any questions for the briefer or topics you are interested in to cp@fpcjpn.or.jp by 12:00 noon on Jan. 8.  As there will only be a limited amount of time to ask questions during the briefing, we will collect questions and provide them to the briefer in advance.

Embassy representatives and FPCJ supporting members may also watch the briefing as observers (admission free).
■How to Apply: Please refer to either the email or fax we sent.
*We will not be accepting applications by email.