Date : January 14, 2021
Japanese Foreign Policy in 2021 (Dr. Ken Jimbo, Professor, Keio University)
post date : 2020.12.23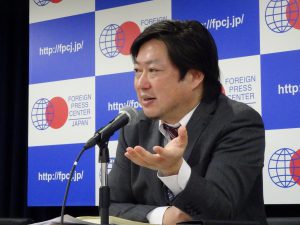 With still no end in sight to the global crisis of the COVID-19 pandemic, 2021 will soon begin. What foreign policy will Japan implement in response to the new Biden administration commencing in the US on January 20, 2021? Will relations with China and South Korea improve, despite there being no sign of solving the issues of the Senkaku Islands or former wartime laborers from the Korean Peninsula? How will Japan cooperate with Australia and India on the shared goal of a free and open Indo-Pacific, and with the EU as it prioritizes green and digital policies?
The FPCJ has invited Dr. Ken Jimbo, a professor at Keio University and expert in security and foreign policy, to discuss Japanese foreign policy in 2021 as the new Suga administration moves to deal with these and other issues. 
■Please note that you cannot physically attend this briefing, as it will be an online press briefing held as a Zoom webinar.
■Date: Jan. 14 (Thu), 2021, 14:00-15:30 (Deadline for application: Noon, Jan. 13)
■Briefer: Dr. Ken Jimbo, Professor, Keio University
■Language: Japanese, with consecutive English interpretation                                  
As in our standard press briefings, there will be a Q&A session at the end.
*In principle, questions will only be accepted from members of the foreign press.

■Members of the Foreign Press:
Please send any questions for the briefer or topics you are interested in to cp@fpcjpn.or.jp by 12:00 noon on Jan. 13.  As there will only be a limited amount of time to ask questions during the briefing, we will collect questions and provide them to the briefer in advance.

Embassy representatives and FPCJ supporting members may also watch the briefing as observers (admission free).
■How to Apply: Please refer to either the email or fax we sent.
*We will not be accepting applications by email.