Date : November 8, 2017
Promoting Japan's Railroads Worldwide—JR East's International Business Strategy (Mr. Tetsuro Tomita, President and CEO, East Japan Railway Company)
post date : 2017.09.23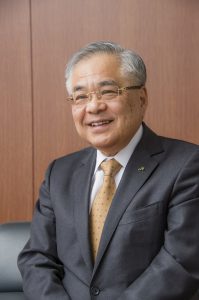 In recent years, expectations have been growing for the role that trains can play in stimulating regional economies and promoting Japan's diverse attractions overseas. In May 2017, JR East began operating Train Suite Shiki-shima. The train became popular even with a high price point, and has brought a breath of fresh air to Japan's railways along with other trains such as JR Kyushu's Seven Stars and JR West's Twilight Express Mizukaze. In addition to this trend, on the 30th anniversary of its founding JR East has also established a new International Affairs Headquarters to strengthen its international business and enter the rail market in many part of the world.
The FPCJ has invited Mr. Tetsuro Tomita, President and CEO of JR East, to speak about the role of rail in stimulating regional economies such as by increasing inbound tourism, and his vision for expanding the international business, including taking part in planning rail projects overseas.
Date:  November 8 (Wed), 2017, 14:00-15:30                                                

Place: Foreign Press Center Japan (6th fl., Nippon Press Center Bldg.)
Language: Japanese (with consecutive English interpretation)
*Embassy representatives and FPCJ supporting members may also attend the briefing as observers 
    (admission free).
*No car park is available. Please use a nearby car park if you come by car.