Date : December 13 - 14, 2010
Report:Gunma Press Tour (December 13-14, 2010)
post date : 2013.08.23
Gunma Prefecture, which once played a leading role in Japan's modernization and industrialization, has inherited a manufacturing gene. Eight journalists from Chinese, Taiwanese, French, EU, and American media organizations joined the press tour, which covered mainly small and medium-sized enterprises overcoming the depression and the strong yen.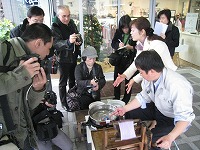 The tour first visited Kiryu City, known for silk products, and covered Milanorib Ltd, determined to reactivate the 1200 year tradition of "Gunma silk." President Harumi Sasaguchi, who established the company in 1998, talked about how they differentiate from imported products by producing high quality and precision work. The correspondents took a close look at "Joshu Zaguri," a traditional way of spinning silk thread from the cocoon. 
 At Matsui Knitting Crafts Mfg., Ltd., specializing in "Ribbed Knitting," President Tomoji Matsui and his younger brother Managing Director Toshio Matsui explained about their global strategy for such a small company with only eight workers. The correspondents looked at the process of making multicolor mufflers, which have been top of the best-selling list for five years in a row at the museum shop in the Museum of Modern Art in New York. 
 Kiryu City has been testing a new energy system: "Local production for local consumption," which is making full use of local features such as natural environment, plus a constellation of automobile and electric industries. This tour covered this unique project; a small hydroelectric plant in a mountainous area generates power and charges storage batteries. Then the Watarase Keikoku railway carries the charged batteries to a power station located in the city center, when they are used for charging locally produced electric cars, one by major local company Fuji Heavy Industries and the other by Gunma University. 
 Then the correspondents had an active Q&A session with Deputy Governor Akio Shigehara at the Gunma prefectural office. Questions from the press dealt with a variety of topics such as the hollowing out of the Japanese manufacturing industry, the possible impact joining the TPP will have on local agriculture, and the policy of saving the local textile industry.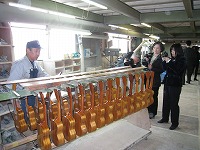 On the second day of the tour, the journalists visited Mitsuba Gakki Co. Ltd., in Maebashi city, the only mass producer of ukuleles in Japan. The President of Mitsuba Gakki, Mr. Shigeru Osawa, talked about how they develop new products based on consumers' needs, and also about producing high-quality ukuleles in their factory while low-priced foreign products are coming in from China, Vietnam, and Indonesia. Later on in the factory, the correspondents photographed workers producing ukuleles, requiring almost 300 processes to become the final product. 
At the end of this tour, we visited Daimonya, a Daruma manufacturer in Takasaki operated by Mr. Sumikazu Nakata. He recounted the history of Takasaki Daruma and its current financial situation. The correspondents also covered the workshop in its busiest time toward the end of the year, where Mr. Nakata was finishing off the last stroke on the face of Daruma.