Date : March 20 - 30, 2017
Fellowship Program: USA, Seattle Times, Dominic Gates, aerospace reporter
post date : 2017.05.24
As part of the 2016-2017 FPCJ Fellowship Program, Mr. Dominic Gates, an aerospace industry reporter with U.S. newspaper The Seattle Times, visited Japan from March 20 to March 30.
The Seattle Times is a leading daily newspaper in the state of Washington, and is very influential due to a combined weekly readership of 1.5 million in paper and online. Mr. Gates writes about the aerospace business, especially the commercial airliner sector currently dominated by Boeing and Airbus.
Mr. Gates, covering the theme of "Japan–U.S. cooperation in the aerospace industry" (which has been a subject of interest to him for some time), visited Tokyo, Nagoya, Osaka, and Kyoto. He spoke with government officials, university professors, and top executives at major aviation companies, as well as seeing first-hand factories of Japanese heavy industry companies deeply involved in manufacturing Boeing 787s and interviewing management there.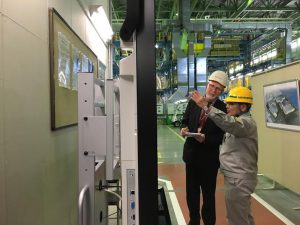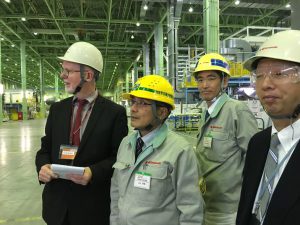 (Photo: At Kawasaki Heavy Industries' Nagoya Dai-Ichi manufacturing complex, with Kawasaki's Aerospace Company's Mr. Akihiro Shiraishi, Deputy General Manager of the Manufacturing Division, and Mr. Akira Murai, Senior Manager of the 787 Manufacturing Engineering Department)
*Articles written based on this fellowship program can be read from the links below.
1 Boeing's key suppliers in Japan want an upgrade (5/13/2017)
2 A Hiroshima survivor carries on Seattle-born husband's mission of remembrance (8/6/2017)