Date : October 2 - 8, 2016
USA, The New York Times, Seth Berkman, Contributing Editor
post date : 2016.12.19
As part of the FPCJ's 40th anniversary project, Contributing Editor Seth Berkman of The New York Times in the USA visited Japan from Sunday, October 2 to Saturday, October 8, 2016. He covered the current situation of female athletes in Japan and the 2020 Tokyo Olympics and Paralympics.
Mr. Berkman is a sports journalist based out of New York. This was his first time visiting Japan, but in the past he has often covered Asian female athletes playing professional sports in the USA, such as Ramu Tokashiki (basketball) and Nana Fujimoto (ice hockey). During this trip, he was interested in the state of women's soccer in Japan, the USA's biggest rival, and also in seeing practices and speaking with athletes and coaches for sports that have major leagues in America but are still minor in Japan, such as basketball and ice hockey.
(photo: Yuki Asada)
*To cover the Tokyo Olympics and Paralympics, he visited the Tokyo Organising Committee of the Olympic and Paralympic Games, the Japanese Olympic Committee (JOC), the Japan Sport Council (JSC), and the Japan Sports Agency.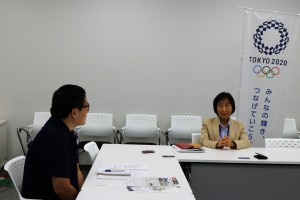 Organising Committee Spokesperson Hikariko Ono declared their hope to effect a positive change on Japan in 2020 just as the 1964 Tokyo Olympics did. There were also explanations of how efforts were underway to realize "a society in which women can shine," with the JSC and other organizations cooperating with the Sports Agency to train female leaders and solve issues facing women in particular.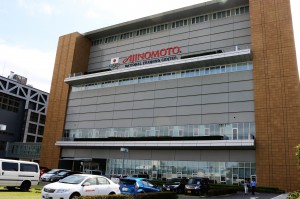 At the Ajinomoto National Training Center in Kita, Tokyo, they explained that the center has had a definite impact on the number of medals Japan won at London and Rio, the two Summer Olympics since its founding in 2008. There are plans to build a neighboring facility next year to allow both Olympians and Paralympians to practice together, and encourage more interaction between the two groups.
*To cover female athletes, he visited the Nippon Sport Science University, and interviewed athletes and coaches involved in soccer, basketball, wrestling, and ice hockey.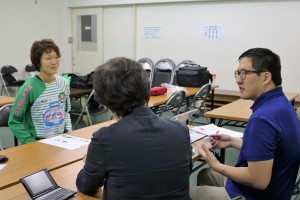 In an interview with Mizuho Sakaguchi, a midfielder on the Japanese women's national soccer team who plays for NTV Beleza, she spoke about the increased popularity of the national team after the 2012 World Cup, and about the differences in training environment and compensation compared to men. Possibly because she had been playing soccer since she was a child, she said, "I don't find the difference in treatment for men and women too strange." After winning the World Cup, the attitude of the mass media and the public "changed like night and day," but she said all the team members had to make an effort to ensure their popularity did not just end as a fad. Currently, Sakaguchi works as a member of the promotion department for her team, which she said "helps me maintain my lifestyle's rhythm," which seemed to surprise Mr. Berkman.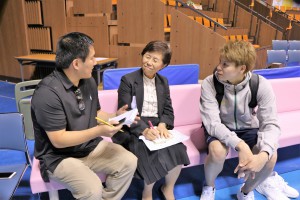 The last day of his coverage in Japan coincided with the start of the women's basketball season, so he watched a game and interviewed JX-Eneos Sunflowers head coach Tom Hovasse and player Ramu Tokashiki. Tokashiki also plays in the American league, and just returned to Japan near the end of September. Mr. Berkman had met her before in the USA, so this was a reunion of sorts in Japan. "It's actually more fun playing in the USA," Tokashiki said lightheartedly. She also said that for 2020, "I'm only thinking about winning. We will defeat the USA, and stand on the center of the podium."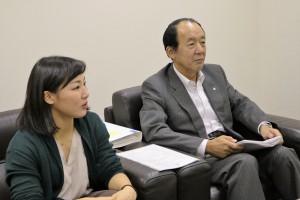 Berkman interviewed coach Takayuki Hattanda and players Tomomi Iwahara and Yurie Adachi of the Seibu Princess Rabbits ice hockey team, which has produced many players for the Japanese national team, about changes to women's ice hockey in Japan since the Sochi Olympics. He also interviewed Chiho Hamada, a wrestler aiming to compete in the Tokyo Olympics who got a job at Kikkoman Corporation through the JOC's Athnavi support program for active athletes, speaking with her about the merits of being able to continue competing while working as a company employee.
Mr. Berkman commented how cultural differences could be seen even with a specific subject like female athletes: while female athletes in the USA were fighting for equal treatment, going to court over pay inequity, many female athletes in Japan didn't seem particularly dissatisfied with their current situation.
*This project was carried out with the cooperation of the International Center for Journalists (ICFJ) and support from the Japan Foundation Center for Global Partnership.
<Articles written by Mr. Berkman based on this trip (in progress)>
Basketball: "Japan Uses Speed, Not Size, to Take Women's Basketball to New Heights" (November 8)