Date : December 9, 2015
Sharing Cool Japan Aesthetics and Techniques with the World–The Cool Japan Fund's Investment Strategy by Mr. Nobuyuki Ota, Cool Japan Fund CEO
post date : 2016.01.13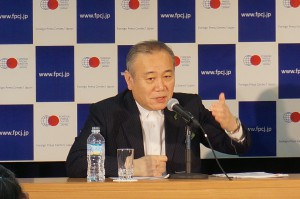 Cool Japan Fund was established in November 2013 as a public-private fund, in order to commercialize "Cool Japan" and increase overseas demand. Two years since the fund's establishment, the FPCJ invited CEO Nobuyuki Ota to speak on the fund's successes and its future. This briefing had 20 attendees, including 7 journalists from China, France, South Korea, and the USA.
Mr. Ota started with the history of creative industries ("soft power" sectors such as food, fashion, and media) worldwide, giving the example of how the US government's New Deal helped build a successful creative industry, including Hollywood movies, by supporting the development of artists. He gave his opinion that over a decade ago, the Japanese government began examining specific policies to support creative industries, and that is when efforts began such as easing regulations to allow education in fashion and movie production at universities. Considering how currently Japan has a trade deficit in almost every sector of the creativity industry except for games, Mr. Ota noted the importance of increasing demand overseas to lead to economic growth in Japan. He also pointed out how Japan exports less broadcast content than South Korea, which has a smaller population, and stated his intent to try and reach the same level of exports as France and the UK, both of which export more than South Korea. Mentioning that the global market for food is expected to grow 1.5 times by 2020, Mr. Ota stated his desire to use food as a driving force to promote Cool Japan.
Mr. Ota then provided an overview of Cool Japan Fund and its activities. Touching on the unique characteristics of this fund, he mentioned how unlike private financial institutions there is no need to seek a high return in the short term, and how both large- and small-scale investments are possible, with the idea being to provide risk capital in areas that it is difficult to acquire funding from private financial institutions. He explained that the three conditions used to make investment decisions are: 1) Purpose, 2) Profitability, and 3) Knock-on effect. 
Breaking down the ¥31.9 billion invested in 13 projects over 2 years, 6 projects were media related (¥15.9 billion), 3 projects were lifestyle related, such as the construction of a mall (¥12.2 billion), and 4 projects were food or service-industry related (¥3.9 billion). Examples were given of a Japanese tea café that originated in Nagasaki and will open in the USA, selling Japanese tea along with sweets and dishes, and a project in Paris which supports the promotion and continued sales of regional goods from Japan in Europe. Mr. Ota explained how Cool Japan Fund follows a policy that as long as "the skills and aesthetics of Japanese craftsmen" are included, the projects they support do not necessarily have to be "Japanese."
Mr. Ota concluded by saying the fund plans to focus on inbound tourism moving forward, and is looking into investments with the 2020 Tokyo Olympics and Paralympics in mind. He mentioned three issues: 1) Focusing on disseminating culture from the perspective of foreigners, 2) Cooperating nationally on initiatives, and 3) Creating Japan's brand. "It is important for all of Japan to work together on promotion overseas, discovering the good aspects of Japanese culture from the perspective of foreigners and showing Japanese aesthetics and techniques, which are the essence of Cool Japan. As for Japan's brand, instead of promoting inexpensiveness and quality like in the past, it is important to carefully explain why a product is expensive."
Journalists asked questions about how profits from these investment projects would benefit Japan, and how the activities of the fund contribute to the Japanese economy.
[Briefer]
Mr. Nobuyuki Ota, Cool Japan Fund CEO
[Note]
If you have published an article, photo, or a program based on our press briefing report, please provide us with the (1) title of article(s) or product(s), (2) author's name, (3) published/broadcast date of your report, and (4) a copy of or a link to your report (if available) via email ( cp[at]fpcjpn.or.jp ).
*Please replace "at" with "@" when you send the Email.