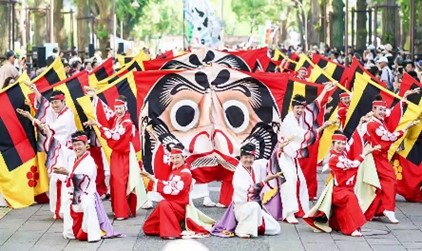 Premium Yosakoi in Tokyo
July 4 (Sun), 2021  2PM-4:30PM
The Yosakoi Festival, which was born in Kochi Prefecture in 1954, is now a dance culture held in 200 places in Japan and in dozens of countries around the world.
Yosakoi teams from all over the world will come together to make the world smile and encourage them through live stage dances s and online video dances.
While people are suffering from the spread of the Covid-19, we will carry out a program with the prayer to make people as bright and energetic as possible on the following dates and times.
Please come in contact with Japanese culture that you do not know yet. You will surely come across an inspiring performance.
We look forward to seeing you.

     Premium Yosakoi in Tokyo

Date and Time: July 4 (Sun), 2021  2PM-4:30PM
Press Ceremony From 1:30PM

Place: Shinagawa Inter City Hall (2-15-4 Konan, Minato-ku, Tokyo) (
sic-hall.com)                                Premium Yosakoi  
yosakoi-nippon.jp/premium/en/

Sponsored by/2020 Yosakoide Support Project Executive Committee
Co-sponsored by/Tokyo Organizing Committee for the Olympic and Paralympic Games



[Contact]
2020 Yosakoide Support Project Executive Committee
Secretariat: Tanaka・Hashimoto
3-10-28-3, Kitamoto-cho, Kochi City, Kochi Prefecture (Within USK, Co.,Ltd.)
Tel:088-883-3322  e-mail: tanaka@usk-ad.com