Magazine Articles of the Month: The Legacy of Former Prime Minister Yasuhiro Nakasone
post date : 2020.01.31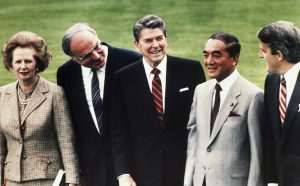 Former Prime Minister Yasuhiro Nakasone passed away on November 29, 2019, at the age of 101. The eulogies and articles on his death which ran in major monthly magazines and newspapers discussed his accomplishments and the issues he left behind.

■ Tsuneo Watanabe, The Yomiuri Shimbun Holdings Representative Director and Editor-in-Chief
In an article titled "A selfless, studious man: Over 60 years with my friend" in the February issue of Chuokoron, Watanabe described his endless respect for Nakasone, who he had known for over 60 years, and eulogized the former prime minister by saying he lived a simple life, was extremely studious, thought constantly about policies, and did his best in order to make those policies reality. Watanabe further commented that Nakasone forming a close relationship with US President Ronald Reagan and improving Japanese-American relations was a major accomplishment, and stated that no one else would have been able to privatize the national railway, the telegraph and telephone public corporation, and the salt and tobacco public corporation.
Nakasone visited South Korea in January 1983, putting an end to issues with economic corporation and rapidly improving Japanese-South Korean relations. Watanabe described an anecdote from this visit: "At a dinner held by President Chun Doo-hwan, he made his speech partially in Korean. He even sang a song in Korean at the reception later on. The South Korean officials were very moved, with some of them having to hold back tears.
Watanabe argued that, by visiting the US after successfully improving Japanese-South Korean relations and saying, "Japan and the US share a common destiny," gaining Reagan's trust, Nakasone was carrying out extremely strategic diplomacy. Watanabe also stated that Nakasone formed personal relationships of trust with world leaders in countries such as China, France, South Korea, and the UK, making him a rare figure who led the world through diplomacy between heads of state.
Watanabe also explained when it came to domestic politics, Nakasone called for a "overall review of postwar politics," and demonstrated strong leadership as a "president-like prime minister," suggesting that he was able to carry out difficult accomplishments such as administrative reform due to delegating well, such as having leading academics act as advisors. Watanabe noted that along with administrative reform, one of Nakasone's key successes in domestic politics was the promotion of science and technology, in particular the comprehensive ten year strategy for cancer research.
In an article titled "60 years with my friend, Yasuhiro Nakasone" in the February issue of Bungeishunju, Watanabe included various anecdotes about his long relationship with Nakasone, much as he had in the Chuokoron article. Watanabe lamented the current lack of politicians with the spirit to defy Prime Minister Shinzo Abe and accomplish something. With the lack of drama in politics now, he wrote, "The passing of former Prime Minister Nakasone, who lived through the political upheaval of the Showa period (1926–1989) and formed a long-term administration, may symbolize something. It is unlikely that there will ever be another politician like Mr. Nakasone."
■ Ryuji Hattori, Chuo University Professor
In an article titled in the February issue of Chuokoron, Hattori noted that even though Nakasone is now generally regarded as one of the greatest postwar politicians, the path to forming a five-year administration in 1982 as a minor conservative politician was not assured. Hattori suggested that the core reason Nakasone was able to move from leading a minority faction without a strong grasp of economics to overcome factional infighting and become prime minister was due to the optimism he gained from his experience of having gone to war as an officer and paymaster in the Imperial Japanese Navy. Even when mocked as a "weathervane" for being opportunistic, he had the strength to interpret that positively.
Hattori lists three roles that Nakasone played in postwar Japan: diplomacy, a political style of leadership from the Prime Minister's Office, and shifting from an age of factional competition to a consolidated mainstream. In addition to the close relationship with the US, known as the "Ron-Yasu" relationship in Japan, Nakasone also built friendly relations with China and South Korea. He pushed through the privatization of the national railway, telegraph and telephone company, and salt and tobacco company, calling for a "overall review of postwar politics."
However, he also listed three things Nakasone was unable to do, despite wanting to: a sales tax, education reform, and constitutional reform. Although he failed to introduce a sales tax in 1987, this formed the basis for the Consumption Tax Act enacted the following year. Since he prioritized privatizing the national railways, his educational reform ended half-baked. Although he was a believer in constitutional reform, direct election of the prime minister, and independent national defense, no movement towards constitutional reform occurred, and he did not press for reform as prime minister.
Nakasone left behind the haiku "Even after dusk, Cicada persists in song, While it still has life," and Hattori sees this haiku as showing Nakasone's tenacity. He concludes, "He loved his country, wanting to change Japan and improve it as much as possible for future generations. This could be said to be patriotic concern over the future of the country. There are not many former prime ministers that demonstrate that kind of tenacity. He was a conservative politician who decided to be politically active his whole life, concerned about the future of the country until the very end."
■ Toru Hayano, Former Asahi Shimbun Columnist
In an article in the November 30, 2019 morning edition of the Asahi Shimbun titled "Politics romanticizing the nation and the constitution," Hayano commented that constitutional reform was the lifelong dream of Nakasone's 101-year life, stating that during his 56 years and seven months as a member of the House of Representatives and five years as prime minister, Nakasone, an exceptional postwar politician, was always thinking about Japan and rebuilding the nation. He noted, "His honeymoon with US President Reagan, cooperation with American military strategy, privatization of the national railways. The Nakasone administration, seeking to be a 'presidential prime minister,' was a forerunner of the reformer administration of Junichiro Koizumi." Hayano concluded, "Nakasone romanticized politics. The 'nation' was at the core of this romanticization. His political life was a tale of romanticizing constitutional reform."
■ According to a November 29, 2019 article on Xinhua News, when asked for a comment on the passing of Nakasone at a scheduled press conference on that day, a Chinese Ministry of Foreign Affairs press secretary stated, "Mr. Nakasone was a visionary, veteran politician. During his life, he worked passionately on friendly relations and cooperation with China, making an important contribution to the development of China-Japan relations. We regret his passing, and give our condolences to his family."
According to an article the same day on Focus Taiwan (the website of Taiwan's national news service, the Central News Agency), the Taiwanese Ministry of Foreign Affairs noted its regret at Nakasone's passing, commenting that he made a major contribution to stability in the region during his term, continued to show interest in the situation in Taiwan and relations between Taiwan and mainland China, and called for China to give up its position of unifying Taiwan by force, making him "One of the greatest politicians in modern Japanese politics."
Photo: AP Photo/File
*This page was created independently by Foreign Press Center Japan, and does not reflect the opinion of the Japanese government or any other organization.