Mr. Monzurul Huq, Tokyo Bureau Chief, Prothom Alo (Bangladesh)
post date : 2015.04.23
Mr. Monzurul Huq was the first journalist from a developing country to act as president of the Foreign Correspondent's Club in Japan (FCCJ), and teaches Bengali at the Tokyo University of Foreign Studies. As a correspondent for the largest daily newspaper in Bangladesh, he has been reporting on Japanese news for over 15 years and says "Japan is a very important country to Bangladesh, historically and economically." We interviewed Mr. Huq about reporting in Japan.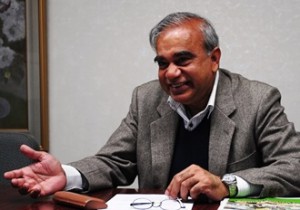 ~ Rapid Growth Due to Neutral Politics and Investigative Reporting ~
—Prothom Alo is one of the few Bangladeshi media outlets with a foreign correspondent in Tokyo. What kind of organization is it?
Prothom Alo means 'first light.' It is a newspaper written in Bengali, the official language of Bangladesh. Established in 1998, it now has the largest circulation (650,000) of any daily in Bangladesh. With the second largest paper having a circulation of 150,000, Prothom Alo has a significant lead. It has a web presence and collaborates with both The Daily Star, a major English-language paper, and the Dhaka Courier, a weekly paper targeting intellectuals. I write articles and a column for them as well.
Some of the reasons this paper caught readers' interest so rapidly is due to taking a neutral political position and focusing on investigative reporting. The paper will investigate scandals, even if the government is involved. Although this may be standard in other countries, in Bangladesh it was an innovative style of reporting. We were also the first paper to be serious about having overseas correspondents. There are correspondents in New Delhi, New York, Washington, London and Tokyo. Technically, I am supposed to cover all of East Asia, but due to financial constraints, most of my reporting is done in Japan.
—Why did the paper choose to place a correspondent in Tokyo?
That is because Japan is very important to Bangladesh for a number of reasons. Economically, Japan has been our biggest partner for some time. Japanese Official Development Assistance (ODA) has been critical to the development of Bangladesh, and recently the focus is shifting towards corporate investment. Ten years ago, there were only a handful of Japanese companies in Bangladesh, but now there are almost 300.
Historically, relations between Japan and South Asian countries have been friendly. Japan was also one of the first countries to recognize Bangladesh as a nation once it won independence in 1971 after the war with Pakistan. The USA, UK and other European countries recognized Bangladesh later. Thanks to this, Bangladeshi people have a favorable impression of Japan, and Japan is an important country to us.
~ Special Orders to Write Feature Articles ~ 
—What themes do you cover as a correspondent?
Since I am the only correspondent in Tokyo, I cover all kinds of stories. The other day, I was in Okinawa, covering the movie festival and the issue with the US military base. I was surprised at the protests in front of Camp Schwab going day and night. There are a lot of things you can't understand without going and seeing for yourself.
The head office told me to leave day-to-day news up to major news agencies like Reuters, AP and AFP, and that I should focus on writing feature articles that go in depth on a theme. When writing about events in Japan, I analyze why they happened and what impact they might have, and include my own thoughts and understanding.
—What kind of Japanese news are readers in Bangladesh interested in recently?
Although overall interest in Japan is quite high, the main focus is on economics and business. For example, recently I wrote an article about a bamboo processing factory in Kyoto, and was contacted by a Bangladeshi businessman interested in exporting bamboo to Japan. When I connected him with the business in Kyoto, they said that the cost of the bamboo they imported from China had been increasing, and were glad to look into making a deal. People are also interested in art and culture, with a lot of interest in Japanese culture recently.
—Last year, Prime Minister Hasina visited Japan in May, and Prime Minister Abe visited Bangladesh in September.
It is very rare for the heads of two states to visit each other's countries within a single year. Abe is trying to strengthen the already friendly relations between the two countries, and encourage more corporate investment. I feel the relationship is changing from one where Bangladesh just receives aid, to a mutually beneficial relationship based on business. These kinds of trends in bilateral relations are the highest priority for me, so instead of relying on news agencies, I of course cover these issues myself.
~ Articles from the Heart: Human Suffering from the Great East Japan Earthquake ~ 
—What were the most memorable stories in your years of reporting from Japan?
There are two things. The first is the 2000 G8 summit in Okinawa. Since it was before the USA 9/11 terror attacks in 2001, security wasn't as strict as it is now, and local residents were very excited. It was also the first major story I covered in Japan, so I remember it very clearly.
The other is the 2011 Great East Japan Earthquake. Interviewing people from Fukushima who didn't know if they would be able to return home was heartrending. Homes are very important to people, with memories attached to their homes, but these people had lost their homes. I wrote that article feeling that if I could communicate how Japanese people are suffering to the readers in my homeland, I would do whatever it took. There are also a lot of disasters in Bangladesh, so I thought it would serve as a warning to prepare for disasters.
Right after the earthquake, the Embassy of Bangladesh in Japan and the Ministry of Foreign Affairs of my country were both of the opinion that Tokyo was unsafe, and that the embassy should evacuate as well, but I disagreed. I wrote an article asking to act with a cool head, saying that it would not provide a good message to Japan. In the end, the embassy stayed in Japan. I thought that of all times, that was the time journalists should stay in Tokyo and inform people. In the end, I was able to continue reporting.
A few years later when I went to Ishinomaki on a FPCJ press tour, the staff at an inn that had been used as an evacuation center up to that point sang a local song, which they sang almost daily with the evacuees, even though it brought them to tears. These kinds of experiences really touched me, and I wrote my articles from the heart. Tears would come to my eyes when covering areas affected by the disaster.
~ Focus on Writing: Message to Japan ~ 
—Please tell us a little about yourself. Why did you become a journalist?
During the war for independence, I was a student, and involved in guerilla action. After the war, I became deeply involved in a magazine published by a student organization. The country had been destroyed, but it was also an interesting time with a new country being made. Later I studied journalism in the Soviet Union, but since income from work in the news media was uncertain, I worked in the UN Information Centre for 10 years after returning to Bangladesh. I still wanted to become a journalist that whole time, and wrote articles under a pen name. I really like writing. I prefer newspapers to television. Television focuses mainly on video of timely reports, but newspapers, and especially columns, are able to go in depth on one thing.
—Why were you chosen as the Tokyo correspondent?
I married a Japanese woman and moved to Japan in 1994. At first I worked part-time for other newspapers and NHK, but I have been a correspondent for Prothom Alo since its first issue in 1998, as I knew the editor who started it. Even though I have spent a long time in Japan, my Japanese hasn't improved much. The FPCJ press tours have interpreters, so it is a great help.
—It has been about 20 years since you moved to Japan. How have you come to view Japan?
There were good and bad sides to the economic growth in the 80s. The country became wealthier, but Japanese people also became a bit arrogant. In the recession after the bubble burst, I believe that it wasn't all bad, and there was a positive side too. Although the economy declined, people became friendlier. Using ODA as an example, Japanese people now go into the local area and teach their skills, making more effective use of ODA for lower cost. Also, it may be thanks to the worsening of the Japanese economy that the number of companies expanding into Bangladesh increased, creating a mutually beneficial relationship.
—To conclude, what do you think of Japan today?
There is not much I dislike. The people are nice, and the food tastes good. I don't really like natto, though. Relations with Bangladesh are also good. For example, in the 2015 election for non-permanent seats on the UN Security Council, Bangladesh withdrew its candidacy and supported Japan. I believe that shows a deep mutual understanding.
The one thing I am concerned about is views on history. In particular, how some people are becoming nationalistic. Regarding the 70th anniversary of the end of World War II, Abe was aggressive at first, but I believe he has realized that it will not be good for Japan to retract previous government statements. I believe the best path for Japan to take is move ahead and open new doors, and act friendly towards all other nations.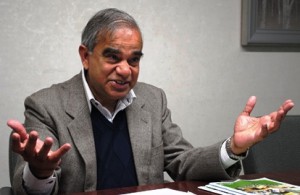 Mr. Monzurul Huq
Received a Master's in Journalism from Moscow University in 1978. Received a Master's in Japan Studies from the University of London in 1993. He worked at the UN Information Centre in Bangladesh and at the BBC World Service in the UK. He moved to Japan in 1994, and began his current job in 1998. He was president of the Foreign Correspondent's Club in Japan (FCCJ) from 2009 to 2010. He is also a board member of the Japan Bangladesh Association, a councillor for Shapla Neer = Citizens' Committee in Japan for Overseas Support, and a part-time teacher at the Tokyo University of Foreign Studies.
Prothom Alo
Founded in 1998. With a circulation of around 650,000, it is the largest daily newspaper in Bangladesh. It is a Bengali language paper, aiming to have a neutral political stance. Its readership ranges from laborers to intellectuals. The Tokyo bureau has been open since the first edition.