Oita Press Tour
post date : 2022.01.06
*This Press Tour has been cancelled. (January 21)
Oita Press Tour
<Tour Dates: Monday, February 7-Tuesday, February 8, 2022>
[Tour Topics]
- Traditional Culture Cultivated by Oita's History and Climate
-Moving Toward the Future: Post-COVID Initiatives and a Carbon-free Society
Oita, known for its onsen (hot springs), benefits from the bounty of both the ocean and the mountains, and has many famous historical sites and places of natural beauty. With increasing numbers of overseas tourists and workers, Oita was among the first in Japan to begin regional globalization initiatives, and became more well known in Japan and around the worldwide when it was one of the host cities for the 2002 FIFA World Cup jointly held Japan and South Korea, and for the 2019 Rugby World Cup in Japan.
However, the global impact of the COVID-19 pandemic led to a drastic decline in tourism, with Beppu receiving a total of around 4.43 million tourists in 2020, a drop to around half of 2019 numbers. A traditional event that has continued for 1300 years was held without an audience but was livestreamed with crowdfunding, and a taiko (Japanese drum) group based out of Oita was forced to cancel concerts  and lost some performers. In these circumstances, Oita Prefecture established the YouTube channel Explore Oita Japan in October 2020 as part of its online promotion strategy during the pandemic. The videos are available with subtitles in multiple languages, presenting all the attractions Oita has to offer.
For 2022, Oita Prefecture was designated as a Culture City of East Asia along with Jinan and Wenzhou in China and Gyeongju in South Korea, and a variety of cultural and art events will be held throughout the year, along with exchange between the cities. Oita Airport has also been chosen as the first spaceport in Asia to launch satellites via aircraft, with plans to perform 20 launches from Oita in the next 10 years, and economic impact is expected, such as the creation of space-related businesses. With its large numbers of hot springs, Oita is also thought to have potential as a center for geothermal power, and a project is underway to create green hydrogen using geothermal power, the first initiative of its kind in Japan and part of efforts for a carbon-free society.
This tour will follow the latest movements in Oita Prefecture working towards revitalization in major areas with an eye to shifting from living with COVID-19 to post-COVID-19, and experience the varied attractions of Oita.
【Tour Details】
1. Oita, Japan's No. 1 Onsen Prefecture
(1) Hot Springs Town in the Mountains: Myoban Onsen (Beppu)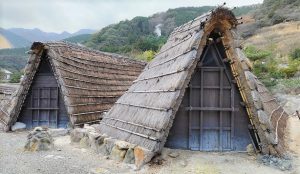 Myoban Onsen is the most elevated of the eight onsen areas known as the Beppu Hachiyu. Since the Edo period, this area prospered due to having alum (myoban) and as a place for therapeutic bathing, and it is home to thatch huts with triangular roofs made without using nails, known as Yunohanagoya.
Yunohana, a natural medicinal powder added to baths, is a popular health and beauty product made by condensing the elements found in onsen emissions. Having been made using the same method for the past 300 years, the only powder like this in the world made using huts, the technique for making Yunohana powder was designated as an Important Intangible Folk Cultural Property by the Japanese government in 2006.
Myoban Yunosato is a compact facility gathering the highlights of Myoban Onsen, such as Yunohanagoya, and is operated by Myoban Yunosato Co., Ltd. Founded in 1725, the company manufactures and sells Yunohana and related products such as cosmetics, and in 2016 was given the 100 Year Company Award, an award for excellent regional companies.
◆The tour will visit Myoban Yunosato, see Yunohanagoya, and learn about their history and techniques, while hearing from President Satomi IIkura about the characteristics of the thatch huts and production methods.
(2) Michelin Three Star Recipient: Hyotan Onsen (Beppu)
Hyotan Onsen is a day-trip onsen facility at one of the Beppu Hatto, Kannawa. Founded in 1922, it was renovated in 2019 and has 14 kinds of family baths, sand baths, and jigoku mushi (hell steamed) cuisine. Hyotan Onsen is the only onsen in Japan to receive a three star rating from the Michelin Guide, and is popular with overseas visitors as well.
◆The tour will get to taste jigoku mushi cuisine, only possible in an area with hot springs, from the facility's kitchen, and hear from Hyotan Onsen President Hitoshi Tanaka about the facility.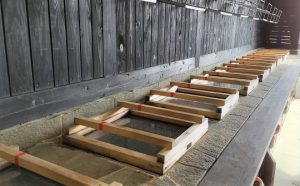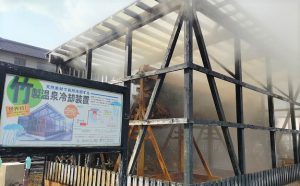 (3) Designed by Architect Shigeru Ban: Kur Park Nagayu (Taketa)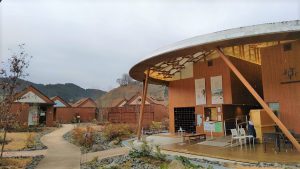 Completed in 2019, Kur Park Nagayu is a health improvement facility using the unique naturally carbonated water of Nagayu Onsen. Kur is German, and refers to a stay somewhere to rest and recover. World-famous architect Shigeru Ban designed this entire complex, including the two-story Kur House with an exercise pool on the second floor you can enter while wearing a swimsuit, the cottage-style accommodations, and the restaurant.
◆The tour will have lunch, including local ingredients, at the facility's restaurant, and hear an overview of the facility from Manager Kosei Kamata. (The onsen building is under construction, and so temporarily closed.)
2. The Potential of Geothermal Renewable Energy
First Japanese Trial Begins for Green Hydrogen from Manufacturing to Supply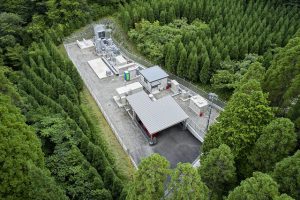 One of Japan's largest construction companies, Obayashi Corporation used the skills it developed in the construction industry to build a test plant for producing green hydrogen using geothermal energy in Kusugun, Kokonoemachi, which began operating in July 2021. This is the first trial in Japan for a proof of concept manufacturing green hydrogen using electricity from geothermal generation to electrolyze water, and supply the hydrogen produced to factories and other recipients. Operations will continue until March 2024. 【Photo provided by Oita Prefecture】
By weight, about one kilogram of green hydrogen which has no carbon dioxide emissions in its manufacturing process can be produced per hour, and this is enough for a fuel-cell vehicle to drive for 100 kilometers or more. The green hydrogen produced is provided to Toyota hydrogen engine vehicles and hydrogen stations in Kyushu.
◆The tour will an overview of the facility, the trial project, and future initiatives for locally produced green hydrogen from Obayashi Corporation staff, as well as viewing the hydrogen production plant.
3. Traditional Culture Cultivated by Oita's History and Climate 
(1) Passing On 1300 Years of History: Shujo Onie (Tennenji Temple, Bungotakada)
In the Kunisaki Peninsula of Oita Prefecture, there is a unique culture of mountain Buddhism known as Rokugo Manzan. "Rokugo" refers to six towns in the Kunisaki Peninsula, and "Manzan" refers to the temples built in those towns. Shujo Onie is one of the main Rokugo Manzan events, which has been held on the Lunar New Year (January or February) since around 1300 years ago. Now it is held at Jobutsuji Temple and Iwatoji Temple in Kunisaki City, and at Tennenji Temple in Bungotakada, and has been certified by the national government as an Important Intangible Folk Cultural Property.
The oni which appear in the Shujo Onie are venerated as ancestral gods, averting disasters and bringing blessings to people. It is said that being hit in the back or shoulders by the torch held by priests wearing red or black oni costumes is a blessing for good health. Most years, many people come from other prefectures and countries to watch the Shujo Onie, but in 2021 it was held without spectators for the first time due to the pandemic, with crowdfunding for a livestream.
◆The tour will hear from Bungotakada City staff at the museum located by Tennenji Temple about the history of Japanese mountain worship and Shinto-Buddhism syncretism, as well as an explanation of the Shujo Onie. People involved in the festival will discuss their feelings on it and passing on traditions to later generations. The tour will then watch some of the festival, with events being held at Tennenji Temple until late in the night.
*This year, the Shujo Onie is planned to be held with only those involved and the media as spectators. Please understand that depending on the situation of the pandemic, changes may be made.
【"Shujyo Onie" photo provided by Oita Prefecture】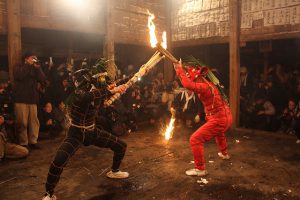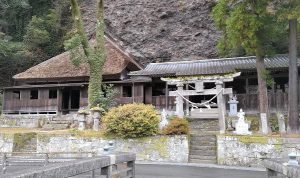 (2) Homebase of a Globally Active Japanese Drum Group: TAO no Oka
In the autumn of 2020, the outdoor concert venue TAO no Oka opened in Aso-Kuju National Park, which straddles Oita and Kumamoto Prefecture. This is the main venue for DRUM TAO, a Japanese drum entertainment group which is active worldwide, and includes a "stage under the sky" where the nature of the park can be seen. Based out of Kuju, Taketa, the members of TAO are chosen by audition, and although some left the group during the pandemic, currently around 40 members live together at their TAO no Sato headquarters, practicing and engaging in creative activities.
For the 2019 Rugby World Cup, DRUM TAO were designated as special host city supporters. They are also planned to perform as part of the Culture City of East Asia project this year, and are gaining recognition as an entertainment group that help promote Japanese culture.
◆The tour will visit TAO no Oka, and hear from Ms. Maki Morifuji, senior executive of the TAO Cultural Foundation and a former DRUM TAO member, about this facility, the foundation, and her time as a member, as well as TAO's new sustainable activities and initiatives during the pandemic.
【Photo provided by Oita Prefecture】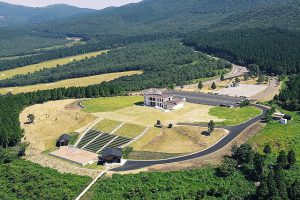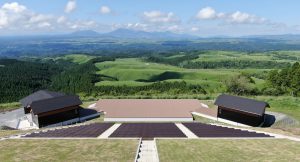 4. Mr. Katsusada Hirose, Governor of Oita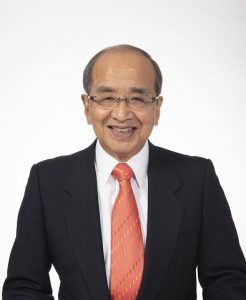 As a Culture City of East Asia for 2022, Oita Prefecture will work to increase its international presence and for sustainable promotion of arts, culture, and tourism. From late February to early March 2022, an international symposium on space technology and science is planned to be held, with a project underway to launch satellites from airplanes taking off from Oita Airport, which has been chosen to become Asia's first spaceport.
【Photo provided by Oita Prefecture】
◆The tour will hear from Mr. Katsusada Hirose, who has been governor of Oita since 2003, about the legacy of the 2019 Rugby World Cup, the revitalization of the tourism industry after the pandemic, the creation of space business, and initiatives for carbon neutrality, Oita Prefecture's main initiatives looking toward the post-COVID-19 era.
5. Legacy of the Passion and Excitement of the 2019 Rugby World Cup: Lionman, Rugby Statue
In the fall of 2019, all of Japan was caught up in the excitement of the Rugby World Cup, and five matches were held in Oita Prefecture. Many Oita residents and visitors from overseas attended the matches live or at public viewings to witness the highest level of play in the world. Oita Prefecture made a monument to preserve the memory of this competition, and it was revealed in April 2021.
Named Lionman, this statue represents the rugby players' impressive physique and speed, so people seeing the monument can understand the excitement of the 2019 Rugby World Cup.
◆By the monument, the tour will hear from an Oita Prefecture official who has involved in Oita hosting the RWC2019 matches and the production of the monument.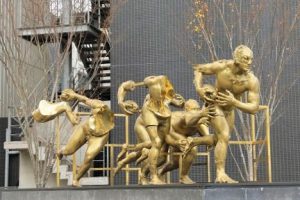 [Tour Itinerary]
1. Dates:
Monday, February 7 and Tuesday, February 8, 2022
2. Schedule
*The schedule may change without notice due to weather or other reasons. Please be aware that depending on the state of the COVID-19 pandemic, the tour may be delayed or cancelled.
[Monday, 7 February]
07:50-09:35   Haneda Airport→Oita Airport (ANA791)
11:00-11:15   Oita Prefecture briefing
11:15-12:00   Interview with Oita Prefecture Governor, Mr. Katsusada Hirose
12:10-12:30   Rugby World Cup monument
13:15-14:00   Lunch (Hyotan Onsen)
14:15-15:00   Myoban Onsen (Yunohanagoya)
15:20-16:00   Rest at hotel
17:00-22:30   Shujo Onie, supper
23:30         Arrive at hotel
 (Stay overnight in Beppu)
[Tuesday, 8 February]
09:50         Leave hotel
10:40-11:30     Green Hydrogen Test Plant
              Geothermal Power Station (TBS)
13:55-14:35     Lunch (Kur Park Nagayu)
15:00-16:00     TAO no Oka
19:40-21:10    Oita Airport→Haneda Airport (ANA2498)
2. Qualification: Bearer of Gaimusho Press Registration Card
3. Cost: 15,000 yen per person, including transportation, accommodation (breakfast included) and lunch on both days 
4. Participants: Limited to 10 applicants.
(Only one reporter or one photographer from each company, but two participants from each TV team will be acceptable.)
*If the number of applicants exceeds ten, an upper limit may be set on the number of participants from each country/region.
5. FPCJ Contact: Yamada, Watanabe
 (Tel: 03-3501-3405、E-mail: ma@fpcjpn.or.jp)
6. Measures for COVID-19
(1)Please follow the directions of the staff, such as taking temperatures before the tour, wearing masks and face shields during the tour, washing hands, and using disinfectant. In the following cases, you will not be able to join the tour:
① If you have a fever of 37.5°C or over when your temperature is taken before the tour starts
② If, in the two weeks before the day of the tour, you had a fever, cough, sore throat or other cold symptoms, difficulties tasting or smelling, fatigue, shortness of breath, or other symptoms
➂ If, in the two weeks before the day of the tour, you came into close contact with someone who tested positive for COVID-19
④ If a family member living with you or other close acquaintance is suspected to have COVID-19
⑤ If, in the two weeks before the day of the tour, you have travelled to a country under travel restrictions or requiring an observation period after entering Japan, or have come into close contact with someone who has
(2) PCR Tests
In order to hold press tours safely during the current pandemic, the FPCJ has established policies to prevent the spread of infection when operating tours.
For this press tour we will be requiring participants to take a PCR test beforehand. Details will be sent to participants at a later date. We appreciate participants' understanding and cooperation, in advance.
7. Remarks:
(1)This tour is organized by Oita Prefecture, and planned and operated by the FPCJ.
(2)The schedule is subject to change without notice.
(3)This tour will require participants to bear a part of the cost, but is not a profit-making venture.
(4)Neither Oita Prefecture nor the FPCJ will be liable for any inconvenience, troubles or accidents that might occur during the tour.
(5)There may be some restrictions on photographing and filming at the tour sites. Please follow the instructions of the staff in charge.