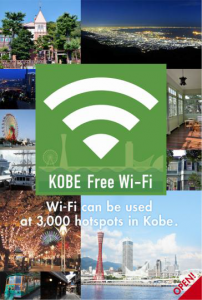 As the use of mobile devices such as smartphones and tablet PCs has spread rapidly, the way that tourists access information while travelling is changing. As such, recently non-Japanese tourists are increasingly demanding better Wi-Fi access.
To meet these needs, the City of Kobe will provide over 3,000 "KOBE Free Wi-Fi" hotspots in main tourist areas and travel routes in the city starting from 31st July. (There are over 200,000 hotspots throughout Japan.)
This is the largest scale Wi-Fi service of its kind of any local government in Japan.
By offering this service, the city aims to make Kobe more user-friendly for non-Japanese tourists, as well as to further promote its inbound and MICE tourism.
How to use "KOBE Free Wi-Fi"
To use the service, please show your passport at the tourist information center, and you will be given a "KOBE Free Wi-Fi Card". Using the ID and password on the card, you can access the service from your smartphone or tablet PC for 7 consecutive days starting from the first login. [Available to non-Japanese tourists only]
<Contact>
Tourism and Convention Division, Industrial Promotion Bureau, City of Kobe
TEL:078-322-6381
※Please contact us in Japanese.