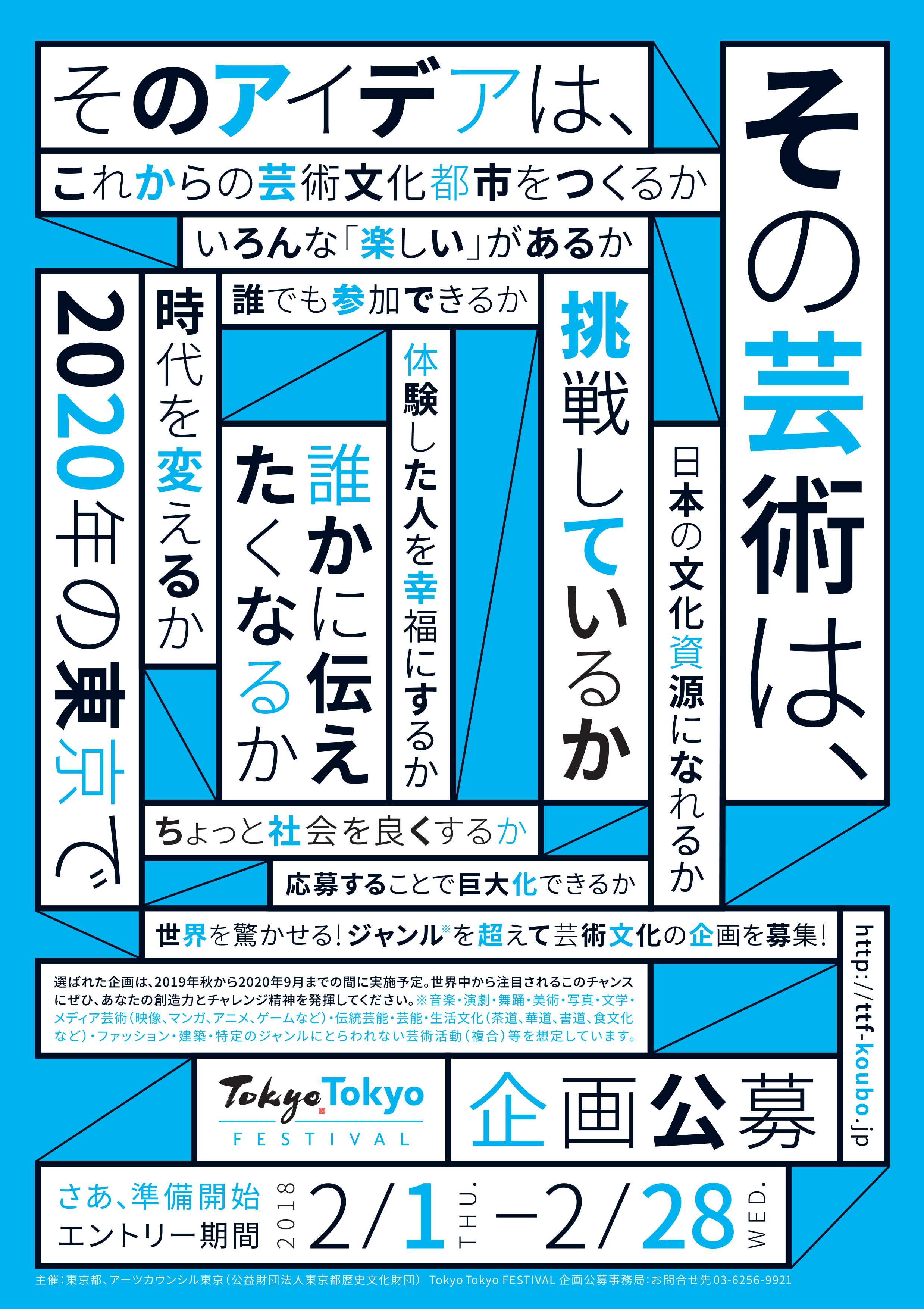 Arts Council Tokyo, Tokyo Metropolitan Foundation for History and Culture
PR Office for Public Call for Project Proposals for Tokyo Tokyo FESTIVAL
2017.12.11
Public Call for innovative and creative plans set in the city of Tokyo!
Public Call for Tokyo Tokyo FESTIVAL Project Proposals
Entries accepted between Feb. 1, 2018 and Feb. 28, 2018
The Tokyo Metropolitan Government (TMG) and the Arts Council Tokyo (Tokyo Metropolitan Foundation for History and Culture) are proceeding a "Tokyo Cultural Program"(*1) in order to create a big wave to achieve a society based on arts and culture towards 2020 and hand it over to future generations.
This call, inviting innovative and creative plans and ideas involving more people, aims to play a central role of the "Tokyo Tokyo FESTIVAL"(*2) to be initiated in April 2020. It is expected to make the Tokyo Cultural Program memorable, and enhance Tokyo to be a more creative cultural city in 2020 onward. The selected proposals will be implemented in Tokyo between the autumn 2019 and September 2020 as projects hosted by TMG and Arts Council Tokyo, which will commission productions to the applicants. Anyone can make an application, including individual, group, organization, or company.
We look forward to creative and challenging proposals taking this once-in-a-lifetime opportunity.
*1 "Tokyo Cultural Program":
  Various cultural projects to be conducted or supported by TMG, the Tokyo Metropolitan Foundation for History and Culture,
  and the Tokyo Metropolitan Symphony Orchestra ahead of 2020.
*2 "Tokyo Tokyo FESTIVAL"
 The "Tokyo Cultural Program" to be held for the six-month period starting in April 2020 when the maximum focus will be turned
   toward Tokyo at home and abroad.
Outline of Public Call for Tokyo Tokyo FESTIVAL Project Proposals
Application Period: Feb. 1, 2018 to Feb. 28, 2018
Date of Approval: Around July 2018 (tentative)
TMG and Arts Council Tokyo (Tokyo Metropolitan Foundation for History and Culture) call following proposal of idea/plan. Selected idea/plan will be implemented as a commissioned project of TMG and Arts Council Tokyo.
1.What we look for:
(1)Genre
     Music, play, dance, visual art such as painting and sculpture, photography, literature, media art (e.g. video,
          comic, anime and game), traditional performing art, lifestyle culture (e.g. the tea ceremony, the Japanese
          art of flower arrangement, Japanese calligraphy, cuisine culture), fashion, architecture, and multiple art
          activities not limited to any particular genre
(2)Contents:
     Proposals are expected to have objects as follows:
     ■Impactful creation
     ■Involvement of any and all people
     ■Expansion of the potential of the arts
(3)Project scale
     The range of the cost of a commissioned project itself is supposed to be from millions to 200 million yen.  However, the total scale of project, which includes other funds such as support money or own funds, is not limited in this range.
(4)Location
     Tokyo metropolitan district
     *A proposal should mention where to perform a project.
(5)Period
     An idea/plan is to be implemented between the autumn of 2019 and September 2020.
2.Eligible Applicant
   Basically, anyone can make an application, including individual, group, organization/corporation
       (e.g. NPO, executive committee, and companies).
    *National governments, local public bodies, and foreign governments are not eligible to make applications.
           However, they are permitted to be member organizations of an executive committee.
    *An organization funded by a national government, a local public body, or a foreign government for the
           foundation or the like. However, it is permitted to be a member organization of an executive committee.


3.Schedule for explanation meeting *Advance registration required through the website
   ▪Date and time:


             1.       December 8, 2017 (Fri)  6:00 – 7:00 p.m.
             2.       December 13, 2017 (Wed)  2:00 – 3:00 p.m.
             3.       December 16, 2017 (Sat)  1:00 – 2:00 p.m.
             4.       December 27, 2017 (Wed)  2:00 – 3:00 p.m.
   ▪ Venue:     Arts Council Tokyo 
                8F, Kudan First Place, 4-1-28 Kudan-Kita, Chiyoda-ku, Tokyo 102-0073
   The Concept of the cultural programs led by the Tokyo Metropolitan Government
      Execute the best cultural programs in history in accordance with the Olympic spirit and pass down cultural legacies after 2020 to make Tokyo the top  cultural city in the world
            - Transmit Tokyo culture with originality and diversity including the coexistence of tradition and modernity to the world and proactively promote  international artistic/cultural exchanges
            - Create opportunities for participation and exchanges among all people including the disabled, the elderly, children, and people
              from other countries
            - Promote artistic/cultural activities with new concepts and develop human resources responsible for the next generation
            - Generate a cultural festive mood in the whole Tokyo
            - Unite effort through cooperation with the national government, other local authorities, artistic/cultural groups, and others
*Please see Application Guideline for details. Guideline and forms can be downloaded from the following website:
Arts Council Tokyo develops a variety of programs to encourage the creation and dissemination of arts and culture and to promote Tokyo as an international city of artistic and cultural attractions. In order to improve the infrastructure and environment for new artistic and cultural creation, Arts Council Tokyo plays a key role in Tokyo's cultural policies by implementing programs that explore Tokyo's originality and diversity, promoting international cultural exchange, and providing opportunities for promising young people who engage in a variety of artistic and cultural pursuits. Furthermore, Arts Council Tokyo is conducting projects that will serve as the driving force of the Cultural Program in the run-up to 2020.
<For inquiries on this project:>
Araki at Administration Office, Public call for project proposals, Tokyo Tokyo FESTIVAL
TEL: +81-(0)3-6256-9921 E-mail: info@ttf-koubo.jp