Date : July 19 - 20, 2017
Notice: Nagasaki & Hiroshima Press Tour
post date : 2017.07.07
Nagasaki & Hiroshima Press Tour
Dates: Wednesday, July 19 to Thursday, July 20
As the only country to have suffered atomic bombing, Japan continues to send a message of peace to the world.  This press tour will visit Nagasaki and Hiroshima just before the day of the atomic bombings and interview their mayors and survivors of the atomic bombings, as well as speaking with youths working on nuclear disarmament to learn about efforts to teach future generations about the realty of the bombings and about the importance of peace.
---
Tour Stops
<Nagasaki>
1.Interview with Nagasaki Mayor Tomihisa Taue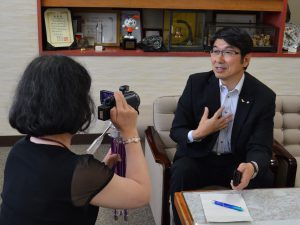 Mr. Tomihisa Taue has been active in conveying messages to the world for supporting the abolishment of nuclear weapons since he was first elected. In May 2017, he attended the Preparatory Committee of the 2020 Treaty on the Non-Proliferation of Nuclear Weapons Review Conference. He gave a speech representing the Mayors for Peace, an organization which he services as a vice-president, and asked world leaders to visit the atomic bombing sites to see the realities of the bombings for themselves.

The mayor will speak about how Nagasaki recovered from the atomic bombing, and initiatives to ensure a peaceful future.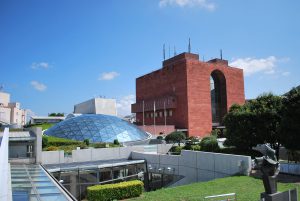 The museum has exhibits about the city of Nagasaki and the daily life of its citizens before August 9, 1945, contrasted with exhibits showing the devastation in Nagasaki after the atomic bombing. There is also an area encouraging visitors to think about war, peace, and nuclear weapons, with the goal of realizing a world free of nuclear weapons, as well as a video room that includes archival footage about the atomic bombing.
photo by Nagasaki Atomic Bomb Museum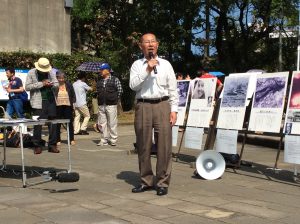 In addition to museum staff providing a guided tour, there will also be an interview with an atomic bomb survivor who is a member of the Nagasaki Atomic Bomb Survivors Council.
<Mr. Minoru Moriuchi>
The atomic bombing occurred while Mr. Minoru Moriuchi was climbing a large persimmon tree to catch cicadas, in Nagayocho, Nishisonogigun, 4.8 kilometers from ground zero. He was eight years old at the time. Two days later, his mother took him to look for relatives in Ohashi, 0.4 from ground zero, where he was further irradiated. Six relatives came to stay at his house, but they all passed away from acute radiation poisoning. He continues to be involved in peace initiatives and activities to speak about his experiences during the bombing to this day, and was the head of the Nagasaki plaintiff's group for a class action lawsuit for recognition of atomic-bomb sickness (306 plaintiffs nationwide, resolved in 2011).
3.Research Center for Nuclear Weapons Abolition, Nagasaki University (RECNA)
Established in 2012 as an educational and research institute of local academia with a firsthand experience of nuclear bombing. RECNA's objectives are to redefine the significance of Hiroshima and Nagasaki experiences in the light of current world trends, and to use academic research and analysis to disseminate information about and make proposals for abolishing nuclear weapons from various perspectives. As a thinktank open to the local community and people longing for the abolishment of nuclear weapons, RECNA operates in cooperation with Nagasaki City and Nagasaki Prefecture.
In addition to introducing academic research with the goal of nuclear weapon abolishment, there will also be an opportunity to speak with Nagasaki University students who are members of the Nagasaki Youth Delegation (supported by Nagasaki University) or Youth Communicators for a World without Nuclear Weapons (designated by the Ministry of Foreign Affairs), about their peace activities at the UN headquarters in New York, holding classes for children in Japan, and peace initiatives by younger generations.
<Hiroshima>
1. Interview with Hiroshima Mayor Kazumi Matsui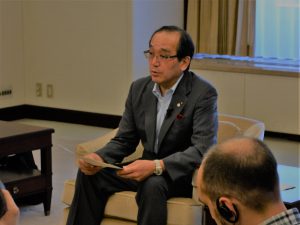 The G7 foreign ministers meeting was held in Hiroshima in April 2016, and in May 2016 then U.S. President Barack Obama also visited Hiroshima. Hiroshima Mayor Kazumi Matsui is working on the peace initiatives, with a strong dedication to peace as the mayor of Hiroshima, the first city to suffer an atomic bombing. In January 2017, he sent a letter to Former President Obama to ask for collaboration on peace activities. and in May attended the Preparatory Committee of the 2020 Treaty on the Non-Proliferation of Nuclear Weapons Review Conference.
The mayor will speak about how Hiroshima recovered from the atomic bombing, and initiatives to ensure a peaceful future.
2. Hiroshima Peace Memorial Museum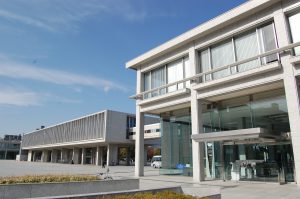 The Hiroshima Peace Memorial Museum collects and exhibits the former possessions of atomic-bomb victims and photos and documents showing the horrors of the bombing, as well as exhibits about Hiroshima before and after the bombing, and about the Atomic Age in which more and more countries around the world acquired nuclear weapons. The museum has a collection of approximately 21,000 items such as school uniforms that students were wearing when they died, charred lunch boxes, and glass bottles melted from the heat. There are approximately 1.3 million visitors to the museum annually, including many visitors from other countries.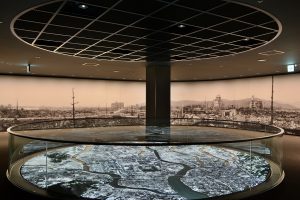 The East Building was renovated to include the latest technology in its exhibits and reopened in April 2017, with videos using CG to show what Hiroshima was like before and after the bombing, and photographs taken by U.S. soldiers projected onto a model of the city. There are also new models which people with visual impairments can touch in order to feel the differences in Hiroshima before and after the bombing. The origami cranes presented by former U.S. President Obama are also exhibited here. There is also an initiative for atomic bomb survivors to have their stories heard around the world using Skype.
The tour will visit the new exhibits in the East Building, as the Main Building is closed for renovations until July 2018.
photos by Hiroshima Peace Memorial Museum
3. Interview with Volunteer Guides (Hiroshima Peace Memorial Park/Atomic Bomb Dome)
As well as the Atomic Bomb Dome, which is on the list of UNESCO World Heritage Sites, the Hiroshima Peace Memorial Park is also home to the Children's Peace Monument and Memorial Cenotaph for Atomic Bomb Victims. Locals act as volunteer guides to pass on the memories of the bombing, and recently youth have been actively volunteering as well.
One guide is a survivor and the other is a youth who want to pass on the message of the survivors. They will explain their activities to introduce the Hiroshima Peace Memorial Park and Atomic Bomb Dome to provide a better understanding of the reality of the bombing.
<Mr. Kosei Mito>
Born in 1946. His mother became an atomic-bomb victim of nuclear bombing when was pregnant. He retired from being a high school English teacher at the age of 58, and at 60 started working as a guide. He is the head of the guide group "FIG (Free and Informative Guide)", and also writes a blog (Japanese only). Over 10 years, he has guided more than 260,000 people, including about 52,000 visitors from 166 different countries. 
<Mr. Masaaki Murakami>
Born in 1993. When in his fourth year at university, he went to the Peace Park to practice English, but after realizing how little he knew about the atomic bombing, he began acting as a guide. After graduating from university, he has continued being a guide while working nights. As of April 2016, he had guided approximately 15,000 people from 72 countries. He learned how to be a guide from Mr. Mito. He writes about his activities as a guide on his blog (Japanese only).
4. Interview with Mr. Shigeaki Mori
Born in Hiroshima in 1937, Mr. Shigeaki Mori was an elementary school student when he suffered from the atomic bombing. Later, through his interviews with other atomic bomb survivors, he learned of and began researching U.S. soldiers who died in the bombing. He published the results of his research in a book, Genbaku de shinda Beihei Hishi [A Secret History of the American Soldiers Killed by the Atomic Bomb] (Koujinsha, 2008). His activities were shown in the movie Paper Lanterns. The scene of President Obama and Mr. Mori embracing in May 2016 made the headlines all over the world. Also in 2016, his research efforts were recognized and he won the Kikuchi Kan Prize, given to individuals and organizations who have made contributions to Japanese culture.
Mr. Mori will speak about his own experiences in the bombing, his research into the U.S. soldiers that died in the bombing, and his activities after President Obama's visit.
 5. Social Welfare Corporation Hagukumi no Sato (Support Facility for People with Disabilities)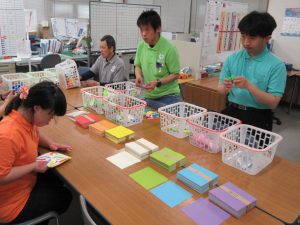 This facility proposed recycling origami cranes back into origami papers, to respect the hope represented by the origami cranes, and so the Origami Crane Recycling Project began. Origami lessons are also held for local children. The colorful recycled origami won the 14th Hiroshima Good Design Prize.

In addition to hearing about recycling origami cranes and other peace initiatives at Hagukumi no Sato, there will also be an opportunity to see the work process and interview facility users.
photo by Hagukumi no Sato
---
<Tour Itinerary and Application Details>
1. Itinerary
<Wednesday, July 19>
| | |
| --- | --- |
| 7:00 | Meet at Haneda Airport Terminal 1 |
| 7:40-9:35 | Haneda Airport→Nagasaki Airport (JAL605) |
| 9:50-10:50 | Nagasaki Airport→Nagasaki City |
| 11:00-11:45 | Interview with Nagasaki Mayor Tomihisa Taue (45m) |
| 12:00-13:00 | Travel and lunch |
| 13:00-14:30 | Peace Park, Atomic Bomb Museum (1.5h) |
| 15:00-16:30 | Nagasaki University, RECNA (1.5h) |
| 17:20-19:14 | Nagasaki→Hakata (Kamome 38) |
| 19:25-20:26 | Hakata→Hiroshima (Mizuho 608) |
Stay overnight in Hiroshima
<Thursday, July 20>
| | |
| --- | --- |
| 8:30-10:00 | Peace Memorial Park, Atomic Bomb Dome (1h) |
| 10:30-11:50 | Hagukumi no Sato (1h20m) |
| 11:50-12:30 | Travel and lunch |
| 12:40-14:20 | Peace Memorial Museum (1h40m) |
| 14:50-15:35 | Interview with Hiroshima Mayor Kazumi Matsui (45m) |
| 15:40-16:40 | Interview with Mr. Shigeaki Mori (1h) |
| 16:50-17:50 | Hiroshima City→Hiroshima Airport |
| 19:30-20:55 | Hiroshima Airport→Haneda Airport (JAL266) |
2. Qualification: Bearer of Gaimusho Press Registration Card
3. Cost: 15,000 yen per person including transportation, accommodation, and lunches (FPCJ will later inform the participants of methods for payment, cancellation fee, etc.)
4. Participants: Limited to 10 applicants. (Only one reporter and one photographer from each company, but two participants from each TV team will be acceptable.) *If the number of applicants exceeds 10, an upper limit may be set on the number of participants from each country/region.
5. How to apply: Please send all of the following information to <ma@fpcjpn.or.jp>.
①Applicant name ②Affiliation ③Nationality of organization ④Telephone number ⑤Gaimusho Foreign Press Registration Card number/expiration date ⑥Smoking/Non-smoking ⑦Birth of date  ⑧Questions for the mayors of Nagasaki and Hiroshima
 Deadline:Monday July 10 2017
6. Remarks:
- This press tour is organized by the FPCJ.
- This press tour will require participants to bear part of the cost, but is not a profit-making venture.
- FPCJ will not be liable for any inconvenience, trouble or accidents that might occur during the tour.
- There may be some restrictions on photographing and filming at the tour sites. Please follow the instructions of the staff in charge.
- The FPCJ's press tours are intended to provide opportunities for news coverage. We request that all participants contact us after their reports, have been published or aired, and send us a copy of the content of their coverage (article, video, or audio in the case of radio). When your report is in a language other than English or Japanese, we also ask you provide a summary. By applying, we assure  that you agree to these conditions.
<FPCJ contacts>
Sugawara (Mr.)  Furuta (Ms.) (Tel: 03-3501-3405, E-mail: ma@fpcjpn.or.jp )